Distraction and creativity
More from Jonah Lehrer's Imagine.  He's describing a study by neuroscientists at Harvard and the University of Toronto:

…the ability to ignore outside stimuli…is typically seen as an essential component of productivity….[Those test subjects] who had a tougher time ignoring unrelated stuff were also seven times more likely to be rated as "eminent creative achievers" based on their previous accomplishments.  (The association was particularly strong among distractible students with high IQs.)  According to the scientists, the inability to focus helps ensure a richer mixture of thoughts in consciousness.
The distractible subjects took in more information and had a less rigid view of what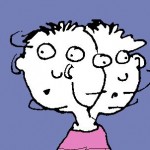 might be relevant to the task at hand.  They were more open to unexpected relationships between concepts — the essence of creativity.
I'm glad to hear this, because I've noticed that my own mind seems to be more — what's that sound?  Oh, sorry. — distractible than it used to be.  (Or perhaps I'm just noticing it more.)  In any case, my irritating inability to focus when a radio's on in the background might actually be a fount of creativity.
What was I saying?